Senior Member
Join Date: Aug 2015
Posts: 296
Jalopnik's YXZ1000R Ride Review
---
Full Ride Review:
Ride Review: The Yamaha YXZ1000R Is The Dune-Conquering Speed Machine You Deserve
Quote:
Riding or driving off road is unlike anything else youíll experience on wheels and, thanks to Yamahaís new YXZ1000R UTV side-by-side, you can go farther, faster, and with a friend. Get ready to destroy some sand, shift some gears and live out your desert speed-dreams.

(Full Disclosure: Yamaha wanted me to drive the YXZ1000R so badly, they got me a room at some hotel whose name I canít pronounce, bought me chapstick and sunscreen, and gave me all the gatorade and water I could drink. They did let me drive at excessive speeds, but refused to take me near anything resembling a jump.)

Before we dive into this review, some of you cagers may be wondering: what the **** is a side by side? Allow me to explain.

Some History

Depending on how you classify them (and which manufacturer you fancy), the Yamaha Rhino was the first real side by side (SxS) released back in 2004 - although Iím sure Kawasaki will claim their off-road golf-cart-looking MULE was the first.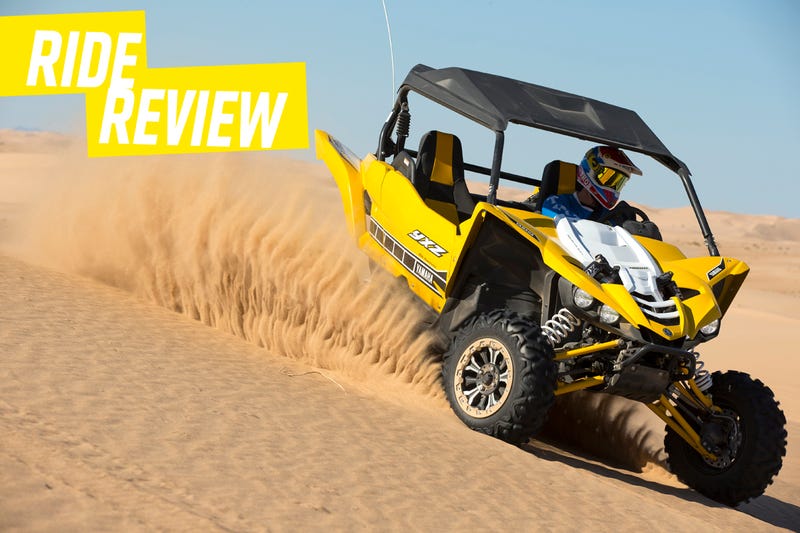 Member
Join Date: Feb 2016
Posts: 74
Would just like to say that the wife and I purchased a new yxz1000r blue/white three weeks ago and have done our break in already and took it in and had complete first service done and glad I did, rack and pinion was tightened with lock tight on bolts and they changed all drive train fluids, cleaned air filter, lubed chassis, adjusted valves, a complete front to rear service and check. Transmission oil change to synthetic and shifts better already. Am ready to get back out and see what other machines I can work over out there at Glamis with just my stock tires. It's an amazing little SxS. Yamaha hit it out of the ball park on this one in my books and that's coming from an 8+ Polaris customer, sorry Polaris but you just don't match up for the driving experience!
Posting Rules

You may not post new threads

You may not post replies

You may not post attachments

You may not edit your posts

---

HTML code is Off

---